04013 Paris-Tripoli-Dakar 1991
Stephane Peterhansel (winner, on the right) and team mate Thierry Magnaldi, both on Yamaha-Sonaoto, on the podium in Dakar, Lac Rose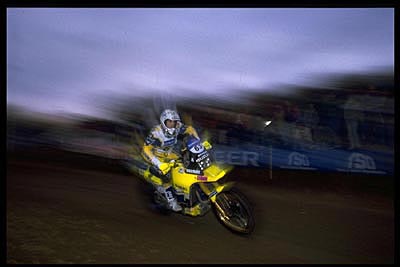 04023 Paris-Tripoli-Dakar 1991
Race prologue in France


04026 Paris-Tripoli-Dakar 1991
Resting for a few minutes in Libyan desert, Yamaha-Byrd riders Gilles Lalay (on his knees) and Ciro De Petri (in the background).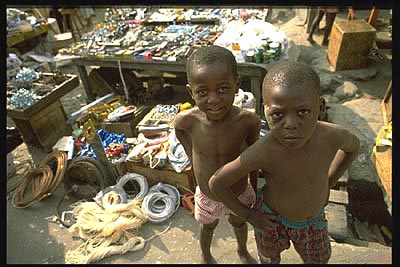 04060 Paris-Le Cap 1992
Children in Pointe Noire market (Congo)


04067 Paris-Le Cap 1992
Gilbert Sabine, during early morning breakfast, holding his metal cup ("gamelle", in french), a true symbol of the very basic commodities available for rally riders, who were supposed to drive all day long, sleep a few hours (mostly in the cold), to start again the following day.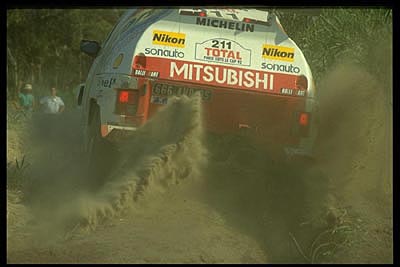 04069 Paris-Le Cap 1992
Mitsubishi-Sonauto won the car race with this 4x4, driven by Hubert Auriol, already a legend in rally-raids


04070 Paris-Le Cap 1992
Patricia Schreck, daughter of Hans Schreck who shared this race with her.


04068 Paris-Le Cap 1992
Stephane Peterhansel, winner in Cape Town with his Yamaha-Sonauto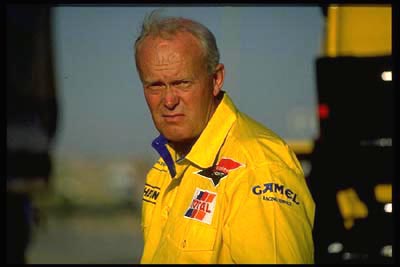 04083 Bjorn Waldegaard, swedish, former World Rally Championship winner, took part to several rally editions with his Citroen ZX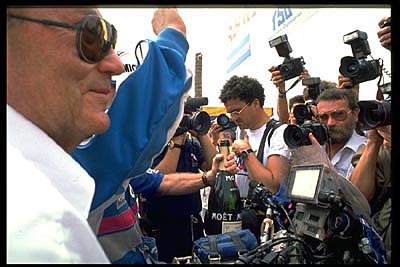 04002 Paris-Tripoli-Dakar 1991
Gilbert Sabine, father of mighty race founder, Thierry Sabine, on the podium in Dakar, Lac Rose


04006 Paris-Le Cap 1992
Beppe Gualini (Honda-Camel)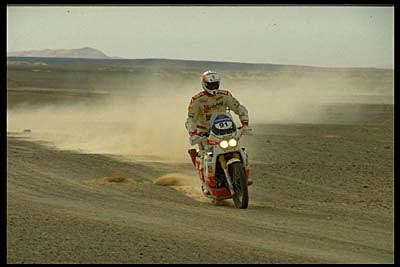 04027 Paris-Tripoli-Dakar 1991
Ciro De Petri (Yamaha-Byrd), commonly referred to as the quickest rider ever seen in Africa, here in action in south Libyan desert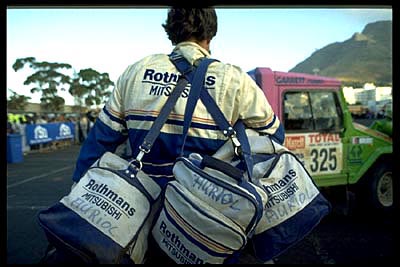 04028 Paris-Le Cap 1992
French driver Hubert Auriol first and winner in Cape Town with His Mitsubishi-Rothmans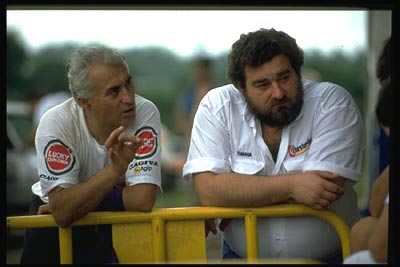 04032 Paris-Le Cap 1992, Pointe Noire (Congo)
Cagiva team manager Roberto Azzalin (right) and Yamaha-Byrd main manager Daniele Papi, the day after the fatal accident suffered by Yamaha rider Gilles Lalay who crashed a few miles before the arrival in Pointe Noire, where the race would stop for a couple of days. His Yamaha-Byrd collided with an unnoticed Toyota medical vehicle which was running along the racing track in the opposite direction and which definitely should have NOT been there.
You may see what ws left of Gilles Lalay's bike HERE.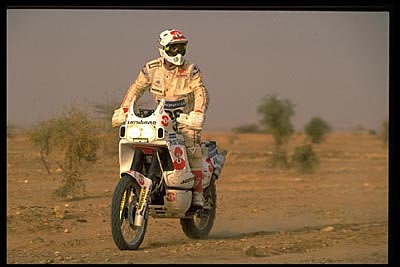 04035 Spanish Rider Morales with his V-Twin Cagiva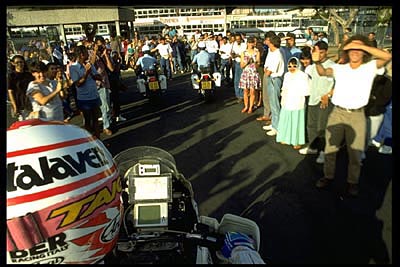 04038 Paris-Le Cap 1992
Final exhibition for all vehicles in Cape Town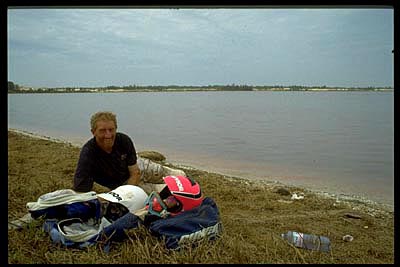 04042 Paris-Tripoli-Dakar 1991
Hans Schreck on Lac Rose shore. This is where the Paris-Tripoli-Dakar used to finish, ending in Dakar outskirts.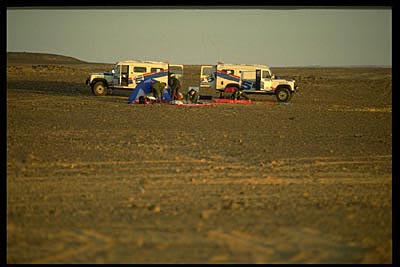 04044 Paris-Tripoli-Dakar 1991
Two 4x4 Land Cruiser from "La Cinq" TV network in south Libyan desert


04045 Paris-Tripoli-Dakar 1990
Franco Picco (Yamaha-Byrd)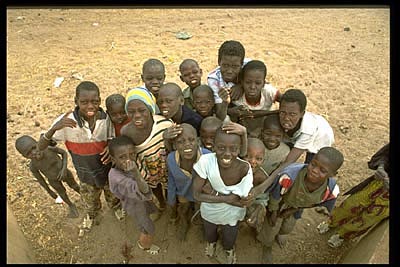 O4O48 Paris-Tripoli-Dakar 1991
Children gathering in Kayes (Mali),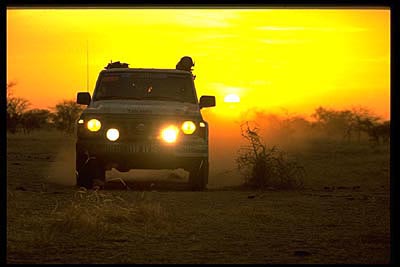 04021 Paris-Tripoli-Dakar 1991
The press Nissan Patrol which took me around, driven by good friend Gigi Soldano


04034 Paris-Tripoli-Dakar 1991
Roberto Mandelli (Gilera 600)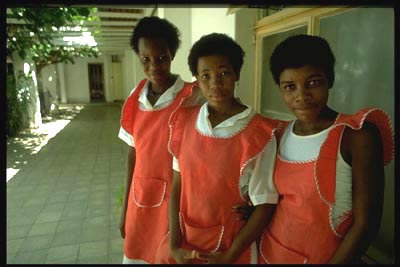 04025 Paris-Le Cap 1992
Hotel service team in Grootfontein