CIAO MARIA GRAZIA CUTULI PICTURE GALLERY


001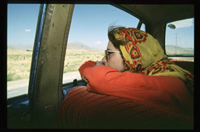 WW
Afghanistan, Bagram air base, 1995
This was the first travel we shared, after having met in Hebron a few months before. Maria Grazia at that time was working with Epoca weekly newsmagazine. She left on vacation to manage this trip on a self-assignment regime.


069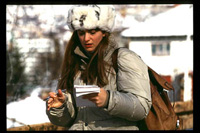 WW
Sarajevo, 1996
We were there together for more than ten days, on assignment for weekly women's magazine Gioia, to cover the leftover of the bosnian serbs to the muslim local population as from Dayton's agreement deadline (March 9, 1996)
Read
E' Pace Triste a Sarajevo
018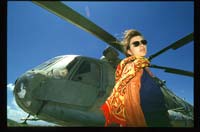 WW
Bamiyan, Afghanistan, 1995
We reached Bamiyan, in central mountain region of Hazarajat the day after the subsiding of fighting between allied Jamiat-I-Islami and Karim Khalili's Hazara militias against Gen. Dostum's Jumbish-I-Melli.
See also
One Day in Bamiyan
020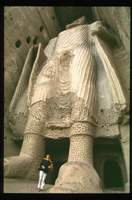 WW
Bamiyan, Afghanistan, 1995
Maria Grazia is standing in front of the taller Buddha statue doomed to be blasted by Taleban, after a religious decree from Mullah Omar, on March 2001.
Read
Bamiyan, la Valle dei Fantasmi
See also
One Day in Bamiyan
016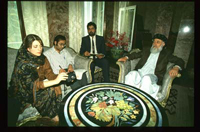 WW
Kabul, Afghanistan, 1995
Maria Grazia while interviewing Afghan President Mr.
Burhanuddin Rabbani
, together with. Mr. Suryanarama from The Hindu newspaper (in white shirt)
017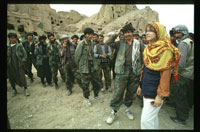 WW
Bamiyan, Afghanistan, 1995
Maria Grazia entoured by ethnic Hazara fighters, a few hundred meters from the site where the statues were carved in the rock. See also
One Day in Bamiyan
029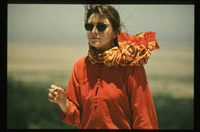 WW
Estalef, Afghanistan, 1995


060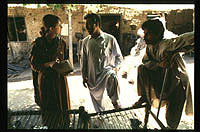 WW
Darah, Pakistan, 1995
While discussing with a gunsmith. Darah, located in North-Western Frontier Province aka tribal areas was well renowned for being fully dedited to guns' manufacturing. There, most skilled craftsmen would provide You a working copy of whatever known firearm in less than 48 hours
Read
Darah, La Citta' delle Armi
See also
Darah, How Much This Kalashnikov?
073
WW
Sarajevo, 1996


019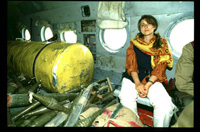 WW
Afghanistan, 1995
Flying to Bamiyan on a MI 8 russian chopper fom
Commander Massud
's Jamiat-I-Islami. Besides an additional fuel tank (in yellow), our chopper was fully loaded with rocket-propelled grenades (RPGs) which You can spot on the floor.
006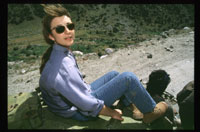 WW
Salang Pass, Afghanistan, 1995
After crossing Salang Tunnel we reached the northern end, still under control of Jamiat-I-Islami militias from
Commander Massud
, but endangered daily by assaults from Gen. Dostum's troops
005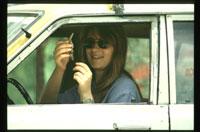 WW
075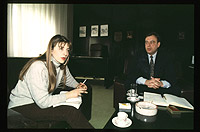 WW
057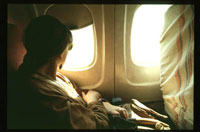 WW
Afghanistan, 1995
Shortly before landing in
Kabul
onboard a Tupolev from Ariana Airlines. We decided to avoid traveling by road through Kyber pass, due to several reports about Hezbi-I-Islamic fighters harrassing or robbing travellers in Sarowbi, traditional feud of pashtun warlord Mr. Hekmatyar. The best part of our stay was ahead of us yet...
008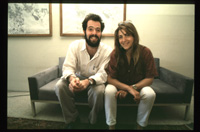 WW
Kabul, Afghanistan, 1995
Maria Grazia with Alexander Thier, a new yorker officer from UNOCHA, whom we had some pretty funny time with, including swimming in the newly-restored swimming pool in German Club, Kabul


037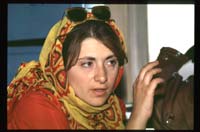 WW
Afghanistan, 1995


081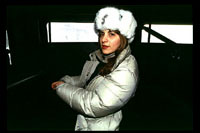 WW
Sarajevo
, 1996
Onboard an italian army armored vehicle
082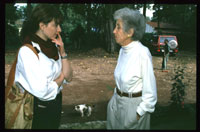 WW
Gisenij, Rwanda, 1998
Maria Grazia with Mrs. Rosamand Carr, a native american who settled in Rwanda in the fifties, getting in touch with scientist and etnologue Mrs. Diane Fossey and becoming somehow her spiritual heir. Currently, Mrs. Carr is running her own orphanage. After the deeds in May/June 1994, when
at least
800.000 Tutsi and moderate hutu were slained, Rwanda for sure doesn't run short on orphans.
Read
I Bambini di Madame Carr
See more at
Rwanda Home Page
084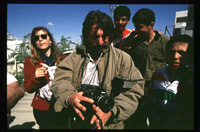 WW
Hebron (Palestine, Occupied Territories), 1995
With photographer and twice World Press Photo Award winner Mr. Francesco Cito.
Meet Francesco Cito
HERE
090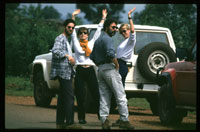 WW
Rwanda, 1998
Maria Grazia came back several times to Rwanda after the completion of her duty as a UN Human Rights monitor in 1996-1997. Here, she is greeting me in this long-distance shot


002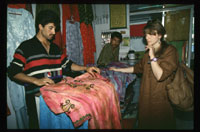 WW
Peshawar, Pakistan, 1995
Shopping for one more chador, shortly before entering Afghanistan


092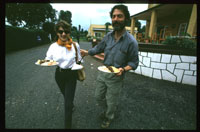 WW
Rwanda, 1998
With good friend and colleague
Massimo Cappon
. In Ruhangeri, while on our way to Gisenij and Kivu lake region, we were kept on hold for a very long time in a local restaurant (background). So we paid for the dishes as well and drove away holding them!
026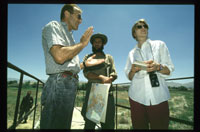 WW
Kabul, Afghaniatan, 1995
During a trip in the southern part of the of town with the manager of UN
demining program
and a local deminer
074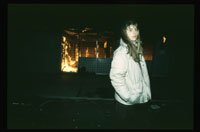 WW
Ilidza (Sarajevo), 1996
Late in the night, while wandering around looking for this kind of arsons, setup by Bosnian Serbs unwilling to handover houses - unduly occupied at the beginning of the siege of Sarajevo - to legal owners, often muslim Bosnians. Most of these houses were burnt up, before being left by the occupants


010
WW
Afghanistan, 1995, Kabul airport
While boarding an ICRC flight due to drop us in Peshawar, on the way back to Milan


072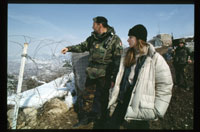 WW
Sarajevo, 1996
While around with italian army Lieut. Col. Martinelli, who took us up in Dbelo Brdo fort, overlooking Bascarsija (Old Town) to provide us a comprehensive overlook on the
bosnian capital
Darah, Pakistan, 1995
During a reportage about gun-making in tribal areas


071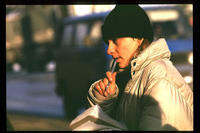 WW
Sarajevo, 1996


104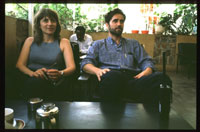 WW
Kigali, Rwanda, 1998
Relaxing with long time friend and former colleague in the UN Human Rights Monitoring team, Mr. Andrea Ori


076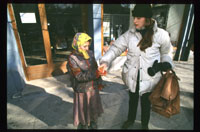 WW
Sarajevo, 1996
With a child beggar in Bascarsija (Old Town)


031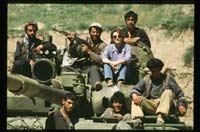 WW
Salang Pass, Afghanistan, 1995
On board a T-62 tank from
Commander Massud
's Jamiat-I-Islami militias
032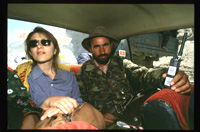 WW
Kabul, Afghanistan, 1995
While hosting a a local commander in our car, on the way to...somewhere.


044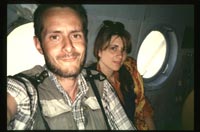 WW
Afghanistan, 1995
Living dangerously on the way to Bamiyan (that is, sharing the same rotten russian helicopter).


049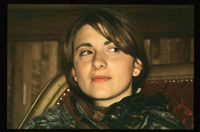 WW
Kabul, Afghanistan, 1995


095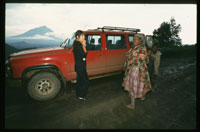 WW
Virunga National Park, Uganda, 1998
On the way to Virunga Park, which You may spot on the far in the background, we met this woman in a colorful dress. She told us in a very polite language that she had been living in New York City till a few weeks before, til her husband had been dropped by the Ugandan mission to the United Nations. At that time, she was walking on bare feet in the mud, under a sudden rain shower.
Read
Virunga, Il Parco delle Nebbie
See portfolio
Virunga Volcanoes' National Park
051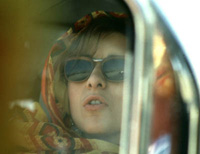 WW
Kabul, Afghanistan, 1995
Rearview mirror games


098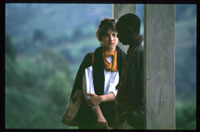 WW
Gikongoro, Rwanda, 1998
While interviewing Emmanuel Mulangelangwe, the keeper of the local technical high school in Muranbi. After several thousand ethnic Tutsis were massacred in this school in 1994, the school itself was declared sort of a Mausoleum of Genocide.
See portfolio
Rwanda, Which Genocide?
054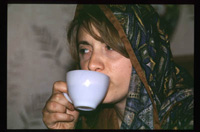 WW
Kabul, Afghanistan, 1995


028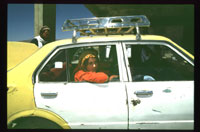 WW
012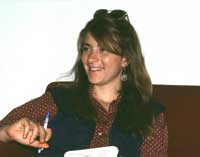 WW
Kabul, Afghanistan, 1995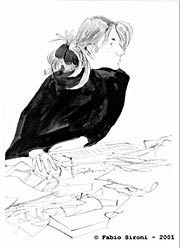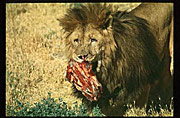 Farewell, good ol' Marjan...
The lone king of Kabul zoo succumbs to his age at 48, after surviving years and years of deprivations and symbolizing to kabulis the spirit of resiliency itself

---
Well.....that's sad news, indeed. To my eyes, Marjan symbolized hope. However, in thinking about that dear old lion's death I choose to believe that when he heard the swoosh of kites flying over Kabul, heard the roars from the football stadium, experienced the renewed sounds of music in the air and heard the click-click of chess pieces being moved around chessboards....well, the old guy knew that there was plenty of hope around and it was okay for him to let go and fly off, amid kite strings, to wherever it is the spirits of animals go.
Peace to you Marjan and peace to Afghanistan.
[Diana Smith, via the Internet]