TRIBUTE TO FALLEN COLLEAGUES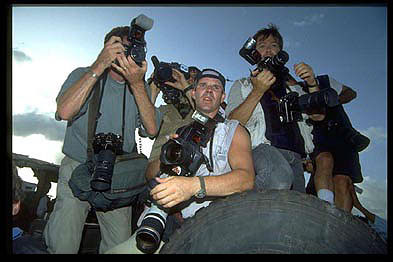 39046 Mogadishu, Somalia, July 9, 1993, Pasta Factory checkpoint.
From left: Scott Peterson (Gamma-Liaison), Hansi Krauss (Associated Press), Stefano Brunelli (Canale 5), Eric Cabanis (Agence France Press) onboard an italian military vehicle, encircled by a not-so-welcoming somali crowd

---
This is a thoughtful tribute to colleagues fallen on duty in Mogadishu, on July 12, 1993:
- Dan Eldon, 22, photographer, Reuters
- Hansjoerg (Hansi) Krauss, 30, photographer, Associated Press
- Anthony Macharia, 22, TV soundman, Reuters
- Hosea D. Maina, 38, photographer, Reuters

---

I met Hansi Krauss the first time in Mogadishu on Tuesday July 6, 1993. I was there for my second stay in Somalia, and Hansi was there as Associated Press photographer. When You work with AP, Reuters, AFP or such big newsagency, You are sometimes called to spent one month or so on some hot spots all over the globe. Hansi, based in Germany, was happy to be there, as every news photographer would have been. Let me remind You shortly the situation in Mogadishu, at that time. The US-led multinational peace force was not so longer greeted. On June the Pakistani contingent had suffered 16 dead, during clashes around Radio Mogadishu building and it is widely reported that only the intervention of Italian military with M-60 tanks had helped avoiding a carnage. A few weeks later, on July 2, during a weapons search operation (which was definitely part of the UN mandate for the contingent) around "Pasta factory" checkpoint, the Italians were attacked too by militiamen, and left on the ground three paratroopers dead and twenty-three more injured. First war-victims ever for Italians after WW II end. I arrived in Mogadishu the following week, and I met Hansi at the arrival ceremony of a couple of US congressmen. Three days later, the Italians got back the Pasta Factory checkpoint. No fighting this time, thanks to agreements undergone with influent somali clan leaders. By the way, I took the picture above on that Friday July 9. On the following Monday, July 12, around midday, the American Cobra helicopters bomb and destroy a villa in Mogadishu. Intelligence sources suggest that General Mohammed Aidid - on the way to become Public Enemy no. I - is participating to a meeting there. The Cobras launch their lethal missiles on the villa, during an eighteen minutes attack.. The blasts are heard everywhere in Mogadishu. The villa is not far from the "Al Sahafi Hotel" (Press Hotel) where most of the correspondents are staying. While journalists decide to wait until things get calmer, photographers stand by impatiently to rush out to join the explosion site. Within a few minutes men came to the hotel identifying themselves as from SNA party, the one from Gen. Mohammad Aidid, and offering themselves to escort photographers to the villa. After a short conversation with these men, all photographers and cameramen run out in a convoy of maybe seven car, following a light truck with people from SNA. The villa, at the bottom of a narrow, dusty road, is encircled by not-yet enraged civilians. Krauss, Eldon, Maina (who had just arrived in Mogadishu to relieve Eldon, at the end of his duty period), Macharia, and Reuters TV cameraman Mohammad Shaffi jump off the cars and rush to the villa. What happens in the following seconds is yet to be fully understood. The crowd, welcoming till then, abruptly changes its mood; everybody starts beating and stoning the photographers. A few others - Angus Shaw (Associated Press) and Eric Cabanis (Agence France Press - see above picture) - owe their life to their drivers who reversed at full-throttle, while bodyguards shot in the air, to clear an escape path. Eldon's body was seen shortly after in front of the villa. Krauss body was brought to October 21st alley, maybe 5 kms. from there. Maina and Macharia corpses ended up in Bakhara Market, where even military heavily armed convoy wouldn't arrive safely. Mohammed Shaffi, the Reuters cameraman, beaten and wounded, is finally dropped outside "Al Sahafi" Hotel, rescued and hospitalized. He's the only survivor of the group of five. It was even very difficult to rescue the bodies, after rumors erupted in Mogadishu that somali gunmen would possibly hold them for ransom. This accident made things very different for press people in Somalia, as I myself could experience during my two following stays in Mogadishu This was the first time - as to my knowledge - that press people were attacked by an enraged mob, and killed only for arriving first on a massacre site.Why did the crowd turned so dangerous? According to reporter Angus Shaw (AP), it could have been fully spontaneous. The whole mess could have been ignited by the huge number of casualties everybody could see in the villa.After this accident, Reuters quitted Mogadishu with non-local staff, never to come back.
As to me, I heard the explosions while I was close to the old seaport, interviewing Mrs. Lul Mohammed, an American-Somali who had come back to Mogadishu to re-open and run an Orphanage named "Restore Hope - Feed the Children Orphanage". I arrived to the villa a fistful of minutes late, just to see the chaos of many vehicles reversing in the narrow road, while encircled by civilians beating them with rifle butts. I couldn't but shout my driver to run to the hotel.

I don't know if it's true that photographs can sometimes fix what otherwise You would never see.
But every time I read a journalist or a photographer has fallen victims of a grenade, of a stray bullet or whatever, I go back to this picture and look at Hansi. When my eyes meet his, I seem to understand everything.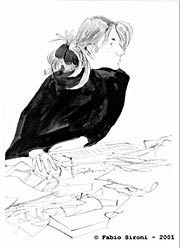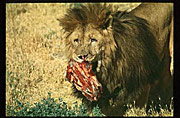 Farewell, good ol' Marjan...
The lone king of Kabul zoo succumbs to his age at 48, after surviving years and years of deprivations and symbolizing to kabulis the spirit of resiliency itself

---
Well.....that's sad news, indeed. To my eyes, Marjan symbolized hope. However, in thinking about that dear old lion's death I choose to believe that when he heard the swoosh of kites flying over Kabul, heard the roars from the football stadium, experienced the renewed sounds of music in the air and heard the click-click of chess pieces being moved around chessboards....well, the old guy knew that there was plenty of hope around and it was okay for him to let go and fly off, amid kite strings, to wherever it is the spirits of animals go.
Peace to you Marjan and peace to Afghanistan.
[Diana Smith, via the Internet]