AFGHANISTAN, ROCKET LAUNCHER AT WORK
SEE ALSO ON THE FRONTLINE AND NORTHERN ALLIANCE

A Day in the life of a rocket-launcher team.
You may watch a video with this same rocket-launcher at work HERE (available very SOON)
All these pictures were taken on Awar Soy frontline, the afternoon prior to its fall to the Taleban at 00.30 AM, September 20, 2000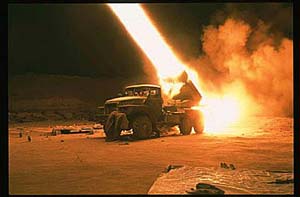 461032 The range of these rockets is well over 20 miles. A rocket-launcher, when fully loaded, can fire 40 rockets before reloading.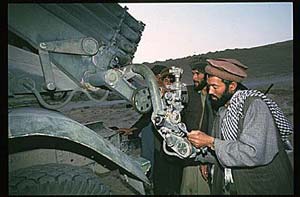 461033 The team commander while reading the map coordinates prior to aim the launcher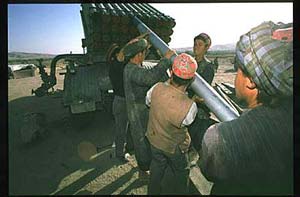 461042 Loaders, most of them teen agers, while insertin one of these deadly rockets in the launcher's tube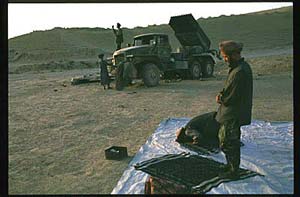 461056 Dusk pray


461036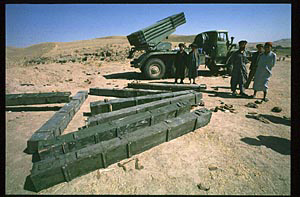 461244 The rocket launcher while being loaded. These 122 mm. rockets come in wooden cases.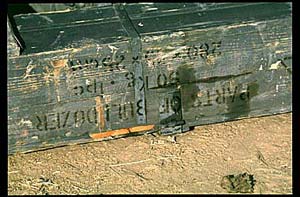 461055 These rockets travel somehow disguised as "Parts of Bulldozer"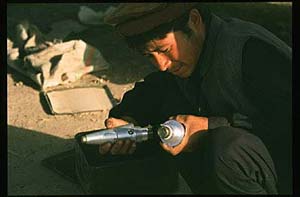 461062 The valuable primers, which are mounted just prior to inserting rockets in the launcher's tubes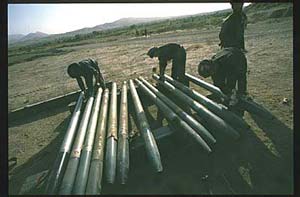 461047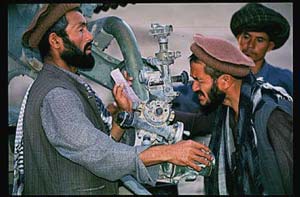 461034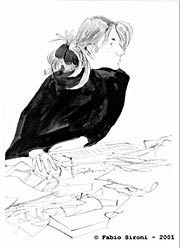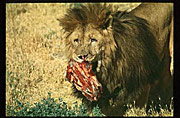 Farewell, good ol' Marjan...
The lone king of Kabul zoo succumbs to his age at 48, after surviving years and years of deprivations and symbolizing to kabulis the spirit of resiliency itself

---
Well.....that's sad news, indeed. To my eyes, Marjan symbolized hope. However, in thinking about that dear old lion's death I choose to believe that when he heard the swoosh of kites flying over Kabul, heard the roars from the football stadium, experienced the renewed sounds of music in the air and heard the click-click of chess pieces being moved around chessboards....well, the old guy knew that there was plenty of hope around and it was okay for him to let go and fly off, amid kite strings, to wherever it is the spirits of animals go.
Peace to you Marjan and peace to Afghanistan.
[Diana Smith, via the Internet]