SIERRA LEONE: KAMAJOR, CIVIL DEFENSE FORCES
Kamajor (Hunters, from Mende word) is a well known armed civil militia which accounts for almost all of the network of CDFm that is Civil Defense Force. Formed in 1995 and numbering approximately 20.000 members is in control of most of the southern part of Sierra Leone. Kamajor's stronghold as the southern-wetsern town ofBo went relatively unscathed by civil war. Specialized in jungle warfare and fully convinced that enemies' bullets will bounce off their bodies, due also to the alleged habit of eating slain enemies' body parts as liver or heart, for sure yhey are highly respeced whereas noyt revered by most Sierra Leoneans. In an often changing alliance scenario, they are the only who constantly opposed rebels from RUF (Revolutionary United Front), often supporting ECOMOG Nigerian military efforts, as in March 1998, when these joined forces successfully drove AFRC/RUF militias out of Freetown.
Mr.
Sam Hinga Norman
is the leader of Kamajors and is currently doubling as Deputy Defense Minister.
You may see him visiting Benguema Training Center where Sierra Leone army recruits are undergoing military training by Royal Army instructors, clicking
HERE
Most of these pictures were taken in Masiaka, 45 miles east of Freetown and de facto frontline with RUF rebels in June/July 2000 or during a trip to the southern diamond mining areas in Bo/Kenema district.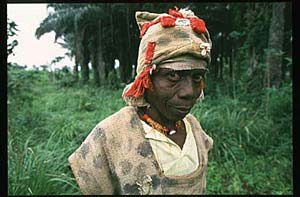 56324 One of Kamajors' high priest who usually send their men into battle reassuring them that bullets won't hurt them, and will instead bounce away.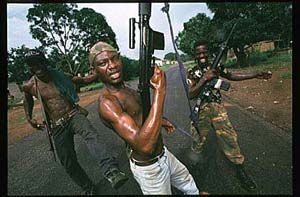 56301 Masiaka, main street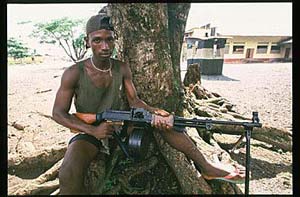 56302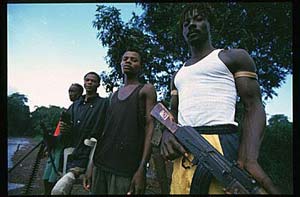 56315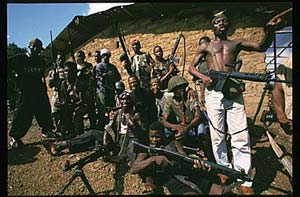 56305 Masiaka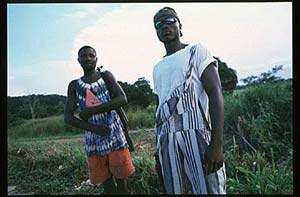 56320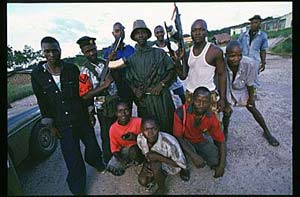 56321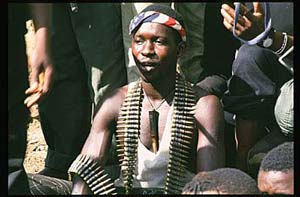 56307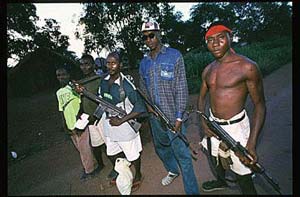 56323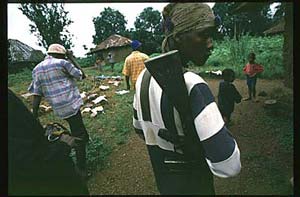 56325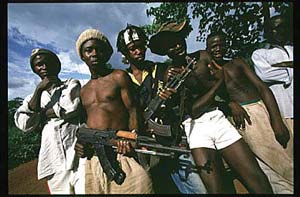 56313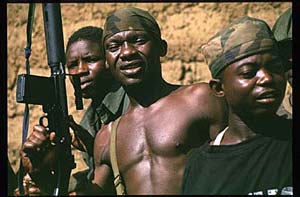 56309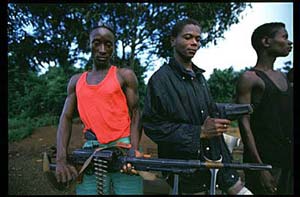 56317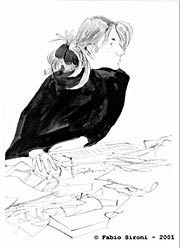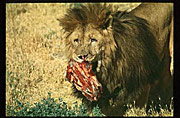 Farewell, good ol' Marjan...
The lone king of Kabul zoo succumbs to his age at 48, after surviving years and years of deprivations and symbolizing to kabulis the spirit of resiliency itself

---
Well.....that's sad news, indeed. To my eyes, Marjan symbolized hope. However, in thinking about that dear old lion's death I choose to believe that when he heard the swoosh of kites flying over Kabul, heard the roars from the football stadium, experienced the renewed sounds of music in the air and heard the click-click of chess pieces being moved around chessboards....well, the old guy knew that there was plenty of hope around and it was okay for him to let go and fly off, amid kite strings, to wherever it is the spirits of animals go.
Peace to you Marjan and peace to Afghanistan.
[Diana Smith, via the Internet]