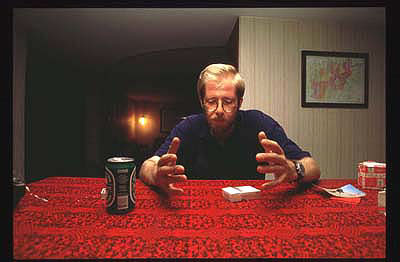 460175 Tim Johnston is a long-time connaisseur of Afghanistan. I met him the first time in 1995, when he used to report from Kabul for Associated Press. The following year he started reporting for Reuters


Taliban start giving forced hair-cuts
By Tim Johnston
KABUL, Nov 4 1996 (Reuters)

The Taliban have started forcibly cutting hair in Kabul in their drive to turn Afghanistan into the world's purest Islamic state.
"We are cutting hair that hangs over the forehead because when you pray it gets in the way of your forehead touching the ground; the devil stands between you and God,'' Maulawi Abdul Rashid Darkasti of the Taliban's religious police told reporters.
Darkasti, armed with a pair of scissors, stood at a roundabout on Tuesday amid piles of severed forelocks.
He stopped buses and cyclists, removing people's hats to check if anyone was hiding offensive amounts of hair.
``We have cut the hair of 56 people already today,'' Darkasti said, his voice ringing with enthusiasm.
He is the head of the religious police -- formally known as the Department for Promoting Virtue and Preventing Vice -- in southwestern Kabul.
Hirsuteness is a major issue in the Taliban's crusade to impose their strict interpretation of Islamic law.
Civil servants have lost their jobs after being judged guilty of trimming their beards.
An official decree bans ``English and American haircuts,'' although the definition of what constitutes an English or American haircut remains fuzzy.


---

Thursday, Sept. 4, 1997
Afghan citizens prefer poverty to victory for opposition
by Tim Johnston (Reuters)

KABUL, Afghanistan - For the long-suffering citizens of Kabul, daily life is a struggle - much of the city is in ruins and the occupying Taliban forces are seeking to impose a purist vision of Islam.
But Kabulis have no strong wish to see a victory of the opposition, whose guns are now less than 12 miles from the city.
The recapture of Kabul by opposition commander Ahmed Shah Masood would not be a reassuring prospect for many people despite the relative liberalism he promises.
Masood was the military power behind the ousted government of President Burhanuddin Rabbani.
"Under Masood it was terrible in Kabul. His commanders were corrupt and made looting a way of life. The city was under constant bombardment and was blockaded for almost four years. All the destruction you see happened when Masood was in power," said one Afghan.
There is a deep ambivalence as to whether the opposition would make better masters than the Taliban, even though the Islamic purists have a stern creed.
The Taliban, who took Kabul almost a year ago, have banned women from the workplace and forced them to wear the all-enveloping burqa veil - a shroud-like garment with a small hexagonal patch of gauze to see out of - in public, and ordered men to grow beards.
The city was an island of relative modernity in a country that often feels as though it is mired in the middle ages, and its relatively cosmopolitan population fears it is being dragged back from the brink of the 20th century.
"These people have no idea of the world. They are trying to force Kabul to conform to the social values of a rural southern village," said the Afghan, who spoke on condition of anonymity. Criticism of the Taliban leaves one open to accusations of being a bad Muslim.
"In the three years since they first became a force in Afghanistan, they have not learned how to govern. There is no structure and they defer all questions of policy, saying they will be addressed when the emergency is over," he says.
But he says the Taliban deserve credit for bringing a measure of much-needed security, particularly in the rural areas. Before the arrival of the Taliban, the south of the country was carved up into fiefdoms of petty warlords who were in a perpetual state of low-intensity hostilities.
The roads had become all but impassable for all but the very poor, who had nothing to lose, and those rich enough to bribe their way through the numerous checkpoints.
"They cleared the roads and disarmed the warlords. I don't think any other faction would have been able to do that," he says.
"At least with the Taliban life is more predictable. There is less corruption and they have not looted us," says the Afghan.
Under Masood, Kabul was blockaded and food prices soared.
"If Masood comes back, the Taliban will blockade the city again. People can only just afford to feed themselves as it is. If prices get any higher they will starve," he said.
For most of the city's residents, the most pressing problem is the state of the economy.
The United Nations estimates that almost half of the population of Kabul receive some sort of assistance from the international community.


---

Tuesday, Nov. 25, 1997
Taliban prisoners tell of torture, starvation
by Tim Johnston (Reuters)

SHEBARGAN, Afghanistan - Members of the ruling Islamic Taliban militia held in prison in the northern Afghan city of Shebargan told today of torture and starvation as almost 1,500 of their fellow inmates were taken out to Afghanistan's killing fields.
There are only 80 prisoners left at the Taliban prison at Shebargan, 70 miles west of the opposition capital of Mazar-i-Sharif. It once held 1,570.
One of the prisoners, Abdul Malik, said that more than 10 people died from starvation over five months.
"We were given two and a half loaves of bread each a day," said Malik holding up a round, flat unleavened loaf of bread the diameter of a teacup, "and five people had to share a teacup of rice between them. We ate all the leaves on the trees."
The prisoners said they were captured in May during an abortive attempt to take Mazar-i-Sharif after a one-time Taliban opponent, Gen. Abdul Malik, joined their ranks.
But the arrangement went wrong, and Malik turned on his new Taliban allies, killing hundreds and capturing thousands more. Malik himself fled Sunday after the man he deposed from Mazar-i-Sharif, his one-time leader Gen. Abdul Rashid Dostum, returned with a vengeance.
Dostum accuses Malik of killing as many as 2,000 of his Taliban prisoners. Yesterday, Dostum officials showed mass graves strewn with bones.
One young man reported that most of the prisoners taken out by their captors were from the Pashtun ethnic group. Afghanistan's war has taken on an increasingly ethnic aspect over the last year, and the Taliban movement is dominated by Pashtuns.
"They said that they were taking the people for exchange. They had a list. They took people with turbans, long beards or long hair," he said. The Taliban have ordered people in the two-thirds of the country they control to grow beards and wear turbans


---

Tuesday, Nov. 25, 1997
At Least 8 Die In Bombing Raid over Kabul
By TIM JOHNSTON, Associated Press Writer

KABUL, Afghanistan (AP) - Rebel jets bombed the Afghan capital today, flattening at least a dozen houses and killing eight people, two of them young children. Fifteen people were wounded, witnesses said.
It was not immediately known which of several rebel groups trying to overthrow President Burhanuddin Rabbani was responsible for the attack. But the Taliban militia, Rabbani's biggest rival, launched a new assault to capture the capital, Kabul, on Saturday after rejecting a U.N. peace plan.
The Taliban, which wants to replace Rabbani's government with strict Islamic rule, possesses several fighter jets. The only other rebel group that has any aircraft is militia leader Rashid Dostum, whose forces control a large swath of northern Afghanistan.
The two 225-pound bombs dropped today in Kabul's central Shar-e-Now district left a giant crater where at least a dozen houses had stood.
Safed Mir stood at the edge of the hole mourning the loss of his wife and two young children. Another son lay in the intensive care unit of a nearby hospital.
``Ten people lived here this morning and now ... nothing,'' he said, his eyes glazed and his voice barely a whisper. Witnesses said at least 15 people were wounded, many of them seriously.
The latest fighting comes only days after U.N. envoy Mahmoud Mestiri said Rabbani would step down - a key condition for the Taliban's acceptance of a cease-fire and U.N. peace plan.
Rabbani reneged on a similar promise to step down earlier this year, costing Mestiri much of his credibility. A senior Taliban religious official denounced the envoy Saturday for coming forward with a second resignation plan.
Mestiri is also circulating a list of 28 names from Afghanistan's 11 main rebel groups for a broad-based council, which no one but Rabbani appears prepared to accept. Both Dostum and the Taliban have rejected the council membership.
Afghanistan's 10 main Islamic groups fought side-by-side during the Soviet occupation in the 1980s, but turned against each other after driving out the communist government in 1992. Their battles have reduced much of Kabul to rubble and killed more than 25,000 people.
The Taliban militia stormed into the fighting last year, saying it was disgusted at the feuding. The fighters, mostly former religious students, have captured about a third of the country and have surrounded the capital.
AP-DS-11-20-95 0945EST- Tuesday, Nov. 25, 1997


---

UN slams Taliban treatment of women
Tim Johnston KABUL

The United Nations said on 20 November it will press for women to be treated as equals in Taliban-controlled Afghanistan which it sees as the second-worst region in the world behind Sierra Leone for observance of women's rights.
The Islamic Taliban deny women full access to health facilities and have closed girls' schools in the two-thirds of the country they control.
But UN Gender Adviser Angela King made clear to reporters the world body was not expecting immediate results.
"I think the UN has to wait and see exactly what is going to happen but at the same time push towards the goal of the UN," she said.
King, assistant secretary-general and special adviser on gender issues to UN chief Kofi Annan, is on a two-week tour of Afghanistan to try to reconcile the United Nations' commitment to gender equality with the traditional interpretation of the role of women in the country.
She told reporters the UN was in a difficult position and unable to implement a policy advocated by Annan that puts principles such as gender equality at the center of the organization's planning.
"We are at the moment in a bit of a stalemate because we have not been able to carry out the principle-centered approach due to the fact that women still do not have complete and satisfactory access to health, education and other facilities that are absolutely key," she said.
As part of their crusade to create the world's "purest Islamic state," the Taliban have closed girls' schools and banned women from working except in the medical sector.
They say women should not meet or be seen by men who are not relatives.
They have decreed that women are only allowed to leave their homes wearing the burqa, a traditional Afghan veil that covers women from head to toe, with a small patch of gauze over the eyes, considered by most Muslims to be a pre-Islamic style of dress.
King said she was very disappointed the Taliban had not taken up an offer made six months ago to provide resources for the rehabilitation of schools in Kabul, provided there were equal numbers of places for both boys and girls.
"The initial response was that there would be an agreement but I was very disappointed that nothing has happened. We are still hopeful," she said.
King said Afghanistan ranked second from bottom in an index of gender equality.
"There is a UN gender index and Afghan women are at the very bottom, second to Sierra Leone, so the overall situation is not very good," she said.
King ended with a plea to allow Afghan women to take a full part in the reconstruction of Afghanistan, which has suffered almost 20 years of continuous conflict.
"Let's add the contribution of Afghan women, which they can undoubtedly make to the economy, to the professions, to academic life and to uplifting the quality of family life within the bones of the coalition and religious decrees," she said.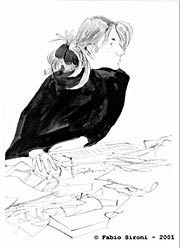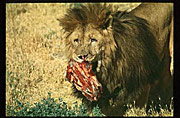 Farewell, good ol' Marjan...
The lone king of Kabul zoo succumbs to his age at 48, after surviving years and years of deprivations and symbolizing to kabulis the spirit of resiliency itself

---
Well.....that's sad news, indeed. To my eyes, Marjan symbolized hope. However, in thinking about that dear old lion's death I choose to believe that when he heard the swoosh of kites flying over Kabul, heard the roars from the football stadium, experienced the renewed sounds of music in the air and heard the click-click of chess pieces being moved around chessboards....well, the old guy knew that there was plenty of hope around and it was okay for him to let go and fly off, amid kite strings, to wherever it is the spirits of animals go.
Peace to you Marjan and peace to Afghanistan.
[Diana Smith, via the Internet]