REMEMBERING ILARIA ALPI AND MIRAN HROVATIN


>The Mysterious Death of Ilaria Alpi extensive report courtesy of Michael Maren
Ilaria la ricordo così by Massimo A. Alberizzi

Following, the last available pictures from Ilaria Alpi, italian TV journalist and Miran Hrovatin, freelance cameraman, assassinated by somali gunmen in Mogadishu on March 20th, 1994, under yet-to-be-fully-cleared circumstances.
We shared the same hitch onboard a military plane to Mogadishu, on March 9th, then spent the following day visiting the Tubercolosis hospital in Merca managed by Mrs. Annalena Tonelli and the italian military hospital in Giohar. A few days later, Ilaria and Miran would leave to the northern region of Somaliland, where they met and interviewed the sultan of Bosaso.
On the way back, a few hours after their arrival in the somali capital, the deadly ambush a few hundred meters from the Amana Hotel.
While Ilaria Alpi was a long time visitor in Somalia, this would be the first and last stay for Miran, otherwise a Bosnia war veteran.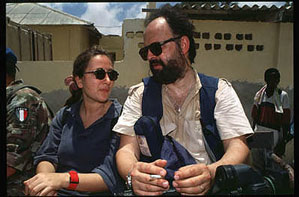 39015 March 1994, Merca
Ilaria and Miran, while sharing a patrol tour onboard an italian military vehicle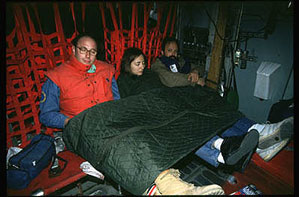 39017 March 9 1994
Onboard the military C-130 plane - the last ever to take off to Somalia, before the end of operations for the italian contingent - a bunch of journalists.
Between them, Ilaria Alpi (Italian TV) and Miran Hrovatin (freelance cameraman on assignment for italian TV). Here, with a red jacket, Gianandrea Gaiani, freelance on assignment for the newspaper L'Indipendente. Due to air bubbles in the heating system, the temperature in the plane dropped so low that we almost made a 180° reverting to Pisa airport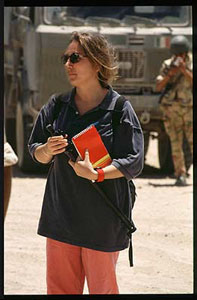 39013 March 1994, Giohar
Ilaria Alpi (Italian TV) with Miran's monopod and one of her valuable notebooks which eventually disappeared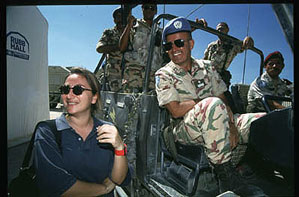 39014 March 1994, Mogadishu, italian military campment inside the international airport
Ilaria Alpi with Brig. Gen. Carmine Fiore, italian contingent Commander in Chief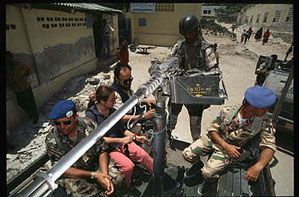 39016 March 1994, Merca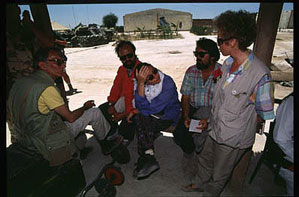 39018 March 1994, Giohar
Ilaria Alpi and Miran Hrovatin (center, in blue and red), together with colleagues Vladimiro Odinzov (La Repubblica), Remigio Benni (sitting, ANSA) and Laura Ceccolini (standing, Retequattro TV network)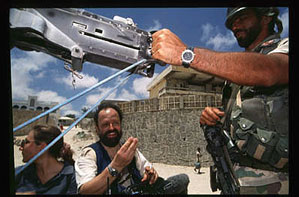 39124 March 1994, Ilaria Alpi and Miran Hrovatin in Merca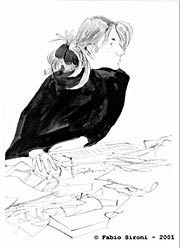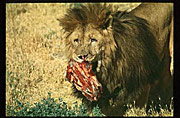 Farewell, good ol' Marjan...
The lone king of Kabul zoo succumbs to his age at 48, after surviving years and years of deprivations and symbolizing to kabulis the spirit of resiliency itself

---
Well.....that's sad news, indeed. To my eyes, Marjan symbolized hope. However, in thinking about that dear old lion's death I choose to believe that when he heard the swoosh of kites flying over Kabul, heard the roars from the football stadium, experienced the renewed sounds of music in the air and heard the click-click of chess pieces being moved around chessboards....well, the old guy knew that there was plenty of hope around and it was okay for him to let go and fly off, amid kite strings, to wherever it is the spirits of animals go.
Peace to you Marjan and peace to Afghanistan.
[Diana Smith, via the Internet]