SARAJEVO MON AMOUR [ 1 ] [ 2 ] [ 3 ] [ 4 ]


This is my humblest homage to the people of Sarajevo, who have endured, during what was to become the longest siege in mankind's modern history, such sufferings I could hardly tell and I could share, stay after stay in the Bosnian capital, only in ludicrous amount. My strongest hope is the viewer won't forget 10,615 dead - 1615 children amongst them - and more than 50,000 wounded people.
The siege of Sarajevo lasted from April 5, 1992, to February 26, 1996, that is 1395 days.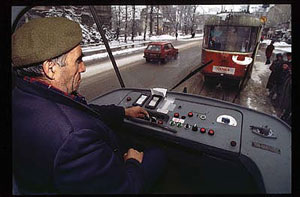 43007 Winter 1995, Trolley car
One year into the siege, in April 1993, the number of vehicles in Sarajevo dropped from 105,O000 to just 5,000. Out of 6000 public buses or cars, just 60 survived, more so after the main public transport depot was shelled in May 1992. Survivivng cars - often successfully sniped - kept running along the only available route Eastward-Westward, whenever fuel / electricity was available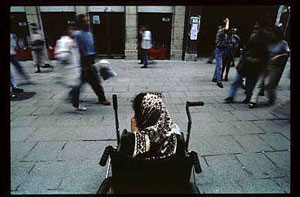 43157 Beggar in Marsala Tita street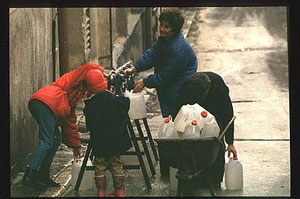 43278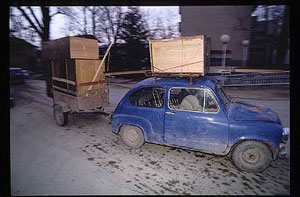 43005 Ethnic Serbs fleeing the occupied district of Ilidza, in March 1996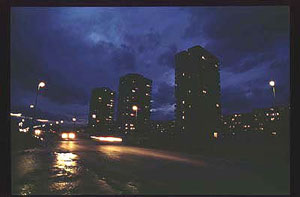 43101 Vojvode Putnika (Sniper Alley) at dusk in December 1995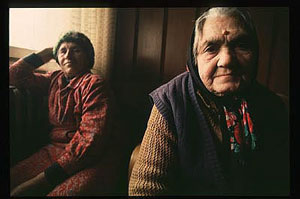 43276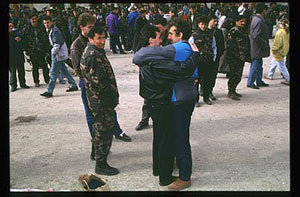 43363 Two former mates meet in Sarajevo after one of them has been locked in Goradze, due to the encircling by Serbs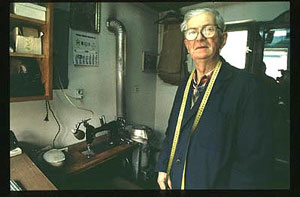 43354 Tailor in Bascarsija district (Stari Sarajevo - Old Sarajevo)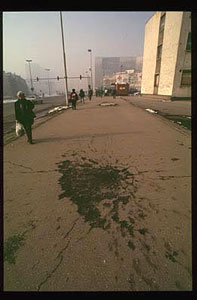 43329 A mortar shell's imprinting on the walkway in Vojvode Putnika (Sniper Alley)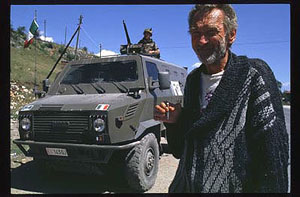 43185 Local elderly with Italian peacekeepers in Vogosca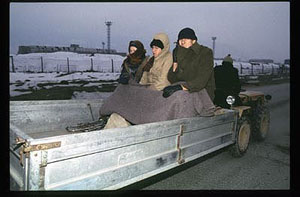 43294 Ethnic Serbs fleeing their houses in early March 1996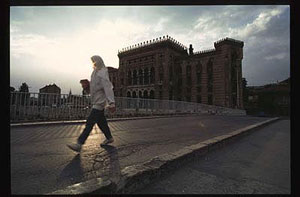 43173 Getting across the Miljacka river, with the National Library on the background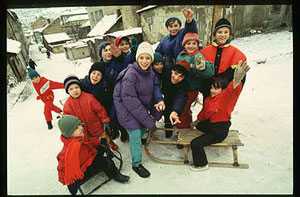 43307 Children in Bistrik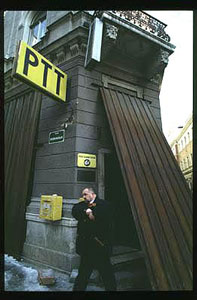 43315 The main Post-Telephone office in downtown, with heavy iron plates protecting the entrance from shelling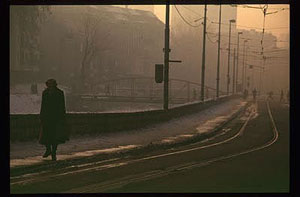 43348 Sunset along the Miljacka river, in Obala Vojvode Stepe Stepanovica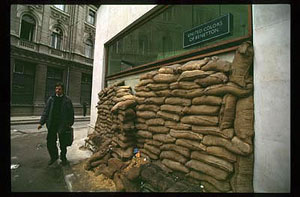 43316 In late 1995, the italian clothing factory Benetton opened this store in Marsala Tita avenue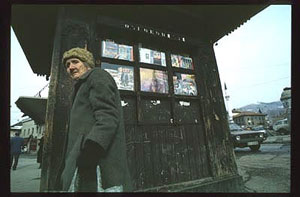 43323 Barcarsija (old Sarajevo)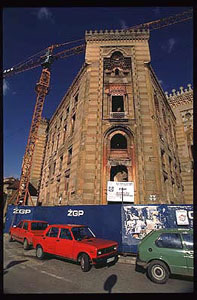 43088 The National Library under reconstruction in Summer 1996. You may see National Library's interior
HERE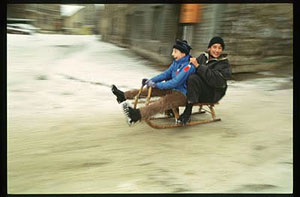 43306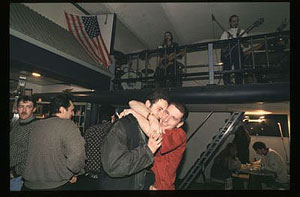 43289 Coffee bar in early 1995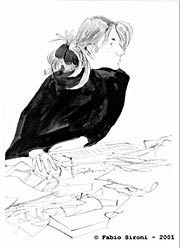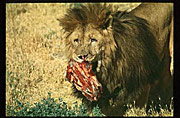 Farewell, good ol' Marjan...
The lone king of Kabul zoo succumbs to his age at 48, after surviving years and years of deprivations and symbolizing to kabulis the spirit of resiliency itself

---
Well.....that's sad news, indeed. To my eyes, Marjan symbolized hope. However, in thinking about that dear old lion's death I choose to believe that when he heard the swoosh of kites flying over Kabul, heard the roars from the football stadium, experienced the renewed sounds of music in the air and heard the click-click of chess pieces being moved around chessboards....well, the old guy knew that there was plenty of hope around and it was okay for him to let go and fly off, amid kite strings, to wherever it is the spirits of animals go.
Peace to you Marjan and peace to Afghanistan.
[Diana Smith, via the Internet]