POLAROID PORTRAITS [ 1 ] [ 2 ]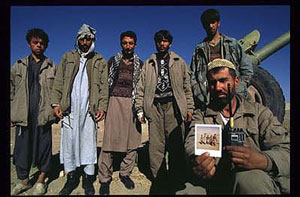 460264 Shomali Plains, Winter 1996
Northern Alliance militias, with the howitzer they manned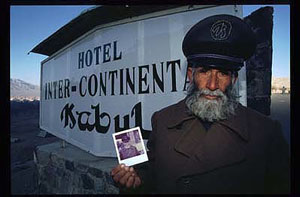 460265 Kabul
Inter Continental Hotel, a Concierge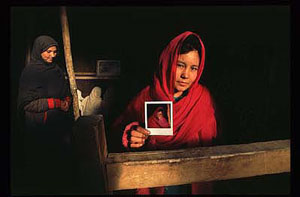 460266 Kabul: A young head of family, employed in a tilery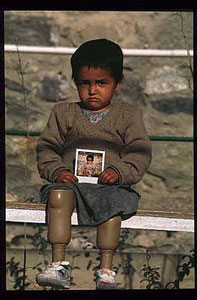 460615 Kabul: This girl, after losing both legs due to a landmine blast, was under treatment in ICRC Wazir Akhbar Khan Orthopedic Center, directed by
Dr. Alberto Cairo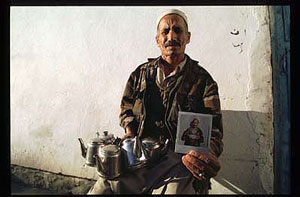 460269 Jabal-Seraj, Afghanistan
The manager of the hotel where I settled for a few days.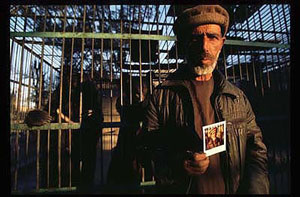 460270 Kabul
Akbar, the guardian of Kabul zoo. I met him for the first time in 1995 (see him feeding the lion Marjàn HERE). Marjàn lost one eye after having been thrown a grenade by a mujaheddin, willing to avenge a close relative who had defied the lion entering his cage. What would You have done - as a lion - if someone had entered Your cage just to make bystanders aware of his braveness? This picture is from November 1996, when the zoo was hosting also bears and monkeys.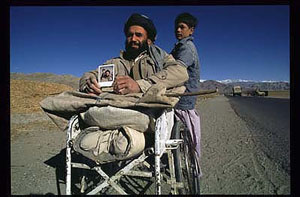 460278 South of Charikar, Afghanistan
This boy was driving his father, a former mujaheddin, to Charikar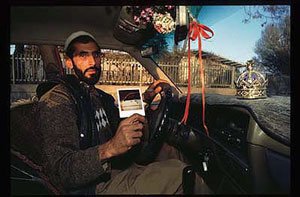 460271 Kabul, Afghanistan
Taxi driver
Article: Taxi Driver in Kabul, by A. Raffaele Ciriello [ ENGLISH ] W[ ITALIAN ]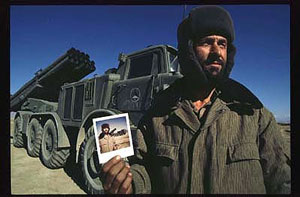 460272 Bagram Air Base, Afghanistan
The commander of a multiple-barrel rocket launcher belonging to Commander Massud forces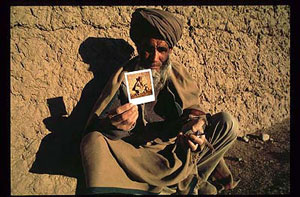 460273 Outskirts of Kabul
Elderly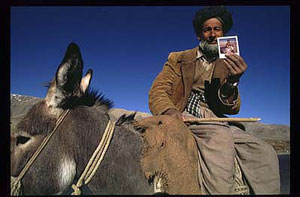 460275 Villager in Jabal-Seraj,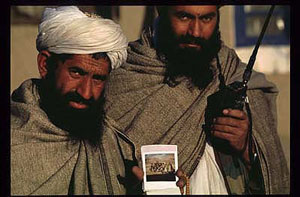 460276 Tagab, Afghanistan
Commander and Deputy-Commander of local Taleban garrison
I was to stop in Tagab for the night, while on the way from Kabul to Jabal-Seraj, and these gentlemen offered me to sleep in the only available guesthouse, being at the same time extremely friendly, as well as all other Taleban militias I met along the road.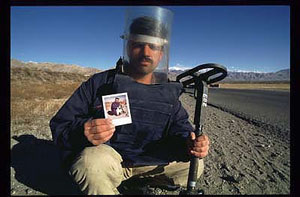 460279 New Road, north of Kabul, Afghanistan
A local deminer, working for British demining company Halo Trust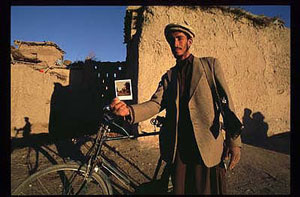 460274 Charikar
Villager (with rifle)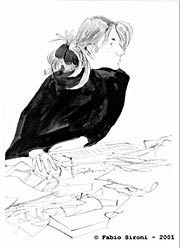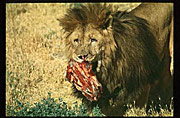 Farewell, good ol' Marjan...
The lone king of Kabul zoo succumbs to his age at 48, after surviving years and years of deprivations and symbolizing to kabulis the spirit of resiliency itself

---
Well.....that's sad news, indeed. To my eyes, Marjan symbolized hope. However, in thinking about that dear old lion's death I choose to believe that when he heard the swoosh of kites flying over Kabul, heard the roars from the football stadium, experienced the renewed sounds of music in the air and heard the click-click of chess pieces being moved around chessboards....well, the old guy knew that there was plenty of hope around and it was okay for him to let go and fly off, amid kite strings, to wherever it is the spirits of animals go.
Peace to you Marjan and peace to Afghanistan.
[Diana Smith, via the Internet]