JALALABAD «LIBERA» RESTA UNA PRIGIONE AVVOLTA DAL BURQA
(18 Novembre 2001)
>Maria Grazia Cutuli

copyright and courtesy of Corriere della Sera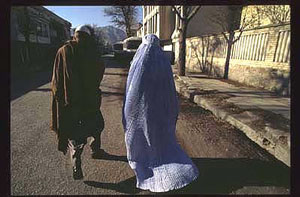 460317 Under Taleban ruling, women can walk in the streets but accompanied by a male close relative


Jalalabad «libera» resta una prigione avvolta dal burqa

Donne sottomesse alle tradizioni dei pashtun
«Il nome di mia moglie? Mai su un giornale»
Chi viene da una famiglia agiata, chi ha studiato e chi è stato all' estero rifiuta il burqa. Chi arriva invece dai villaggi e dalle zone rurali, dai quartieri poveri, non penserebbe mai di farne a meno

DAL NOSTRO INVIATO JALALABAD - Nascoste, invisibili, assenti: non si vedono donne a Jalalabad. La liberazione della città afghana dai talebani ha portato nelle strade migliaia di miliziani armati, bande ubriache di vittoria, pronte a contendersi il c ontrollo del territorio sino all' ultimo vicolo o all' ultima casa. Non ci sono donne tra chi fa la guerra, gestisce il potere, decide il futuro. In un' intera mattinata, appaiono tra le botteghe del suk solamente tre sagome avvolte dal burqa, dal pa sso silenzioso e discreto, coperte come sempre dietro la cortina di un poliestere. «Scoprirsi il viso? Non è il momento», farfuglia una delle tre, scivolando tra le bancarelle. «Il burqa è l' unica protezione che abbiamo», dice la seconda, mentre la terza acconsente. «In una situazione come questa, rischieremmo lo stupro». Fanno la spesa veloci, un po' di frutta, cotone per cucire, pezzi di pane. E si dileguano con la stessa andatura leggera con cui sono arrivate, strette una all' altra a difend ersi dal mondo di fuori. Non ci sono stati delitti a Jalalabad, com' è successo invece a Kabul dopo l' arrivo dell' Alleanza del Nord. Nessun proclama dei mujaheddin che inviti le donne afghane a tornare nei posti di lavoro e tra i banchi di scuola. Le milizie tribali - ancorate alle coriacee tradizioni pashtun - hanno altro a cui pensare. E non è certo il burqa, la segregazione femminile, la violazione dei diritti umani, il peccato che rimproverano ai talebani. Il velo integrale fa parte dei co stumi locali. La sottomissione delle donne è un' eredità secolare che le milizie coraniche hanno solo istituzionalizzato. «E la cultura fa la differenza - dice Karmi Nazri, proprietario di una scuola d' inglese a Jalalabad -. Chi viene da una famigli a agiata, chi ha studiato e chi è stato all' estero rifiuta il burqa. Chi arriva invece dai villaggi e dalle zone rurali, dai quartieri poveri, non penserebbe mai di farne a meno». I talebani non c' entrano, secondo lui. Anche prima del loro arrivo i n Afghanistan, la maggior parte delle donne pashtun si copriva il viso. «Cambierà qualcosa? Non certo adesso, con i guerriglieri in giro. Non c' è donna che può aver voglia di mostrarsi in una situazione come questa». Forse in futuro, a poco a poco, una volta che l' Afghanistan avrà preso un altro corso politico. «Ma mia moglie, no. Lei il burqa l' ha sempre portato e lo porterà sino alla fine dei suoi giorni». Come si chiama la moglie? Il professore d' inglese abbozza un sorriso imbarazzato: «N on mi pare il caso che il suo nome compaia sui giornali». Nient' altro da aggiungere. Anche Kamram Bashari, medico all' ospedale centrale di Jalalabad, si mostra esterrefatto all' idea che le donne della sua famiglia possano camminare a viso scoperto . «Non hanno mostrato la loro faccia nemmeno ai propri cugini. Sono quelle che lavorano per il governo, le professioniste, le dottoresse, che tra qualche mese forse alzeranno la testa, a rivendicare libertà mai godute». La cultura pashtun è dura da s radicare. Anche nel vicino Pakistan vigono le stesse regole: perfino nella buona borghesia, dove non c' è occasione che non venga celebrata con sontuosi banchetti, uomini e donne festeggiano in zone diverse, rigidamente separate. Ancor più nei campi profughi degli afghani: il burqa serve a mascherare la povertà, a nascondare la vergogna di chi chiede l' elemosina, a proteggersi dalla promiscuità. Era questo il significato originario dallo hijab, l' abito prescritto dal Corano: un riparo per il c orpo e per lo spirito, in una società invadente come quella beduina, per mettere una distanza tra sé e gli altri, e garantirsi un minimo d' intimità. A Peshawar, in Pakistan, s' incontrano donne ultrafondamentaliste, colte, laureate, capaci di parlar e in perfetto inglese, che teorizzano la differenza tra i sessi. «É segno di rispetto da parte degli uomini - dice una attivista del Jamiat Islami, uno dei principali partiti religiosi -. Serve a difenderci dagli sguardi indiscreti, a proteggersi da un eccesso di responsabilità. Non vogliamo diventare come voi occidentali, oberate di lavoro, costrette a mantenervi da sole, a trascurare la famiglia ed i figli». Persino le donne del Rawa, l' associazione rivoluzionaria femminile dell' Afghanistan, ammettono il velo: «Fa parte della tradizione». Quel che non accettano è che sia lo Stato ad imporlo, come nel caso dai talebani. A Jalalabad le donne aspettano. «Ci vorrà del tempo perché i costumi cambino», dice il dottor Kamran Bashari. Una vera stabilità politica chiarirà quale sarà il ruolo femminile in Afghanistan.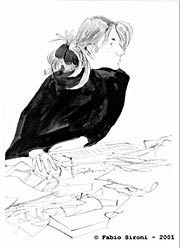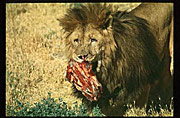 Farewell, good ol' Marjan...
The lone king of Kabul zoo succumbs to his age at 48, after surviving years and years of deprivations and symbolizing to kabulis the spirit of resiliency itself

---
Well.....that's sad news, indeed. To my eyes, Marjan symbolized hope. However, in thinking about that dear old lion's death I choose to believe that when he heard the swoosh of kites flying over Kabul, heard the roars from the football stadium, experienced the renewed sounds of music in the air and heard the click-click of chess pieces being moved around chessboards....well, the old guy knew that there was plenty of hope around and it was okay for him to let go and fly off, amid kite strings, to wherever it is the spirits of animals go.
Peace to you Marjan and peace to Afghanistan.
[Diana Smith, via the Internet]