460319 Kabul, 1996


«Erano in 12, tutti armati di Kalashnikov e con la faccia coperta. Ci hanno chiesto di consegnare loro nostra figlia. Ci siamo rifiutati. Insistevano. Lei ha detto che non voleva andare con i soldati. Uno di loro ha imbracciato il kalashnikov e l'ha ammazzata, proprio davanti ai nostri occhi. Nostra figlia aveva vent'anni e stava quasi per finire le superiori...». Una coppia di profughi ricorda l'orrore di una notte di marzo del 1994 a Kabul, quando le milizie del generale Dostom, l'uzbeko che oggi controlla il nord del Paese, sono entrate nella loro casa del quartiere di Microryan. La loro testimonianza è stata raccolta, insieme con quella di altri profughi, in un dossier pubblicato a maggio da Amnesty International, che rivela per la prima volta tre anni di violenze, abusi, assassini, compiuti sulle donne afghane durante la guerra a Kabul. Come in Bosnia. E anche peggio. Nel confltto che ha dilaniato la città dal 1992 fino ad aprile scorso, hanno perso la vita centinaia di migliaia di donne, ammazzate negli attacchi di artiglieria, massacrate nelle loro case. Moltissime sono state picchiate, violentate, costrette a far da mogli ai comandanti militari, avviate alla prostituzione. Altre ancora hanno preferito il suicidio pur di non finire nelle mani dei soldati. Nashima, una studentessa di 16 anni, si trovava in casa quando gli uomini di Dostom sono entrati con l'intenzione di portarla via. «E' scappata al quinto piano», riferiscono i familiari, «e si è buttata giù. Morta sul colpo». A Kabul, terra di nessuno, dove le leggi per tre anni non hanno avuto significato, la Costituzione è stata dimenticata, i tribunali giudiziari distrutti, «diversi profughi», dice il dossier, «hanno raccontato la storia di una donna incinta che aveva tentato di raggiungere l'ospedale insieme con il marito durante un coprifuoco. Le guardie l'hanno femata, assicurando all'uomo che l'avrebbero accompagnata loro». L'indomani sulla strada c'erano due cadaveri: quello della madre e quello del neonato. «I soldati si sono giustificati dicendo che erano curiosi di vedere dal vivo come nasceva un bambino». Per le donne sopravvissute alla crudeltà dei mujihaddin è stato anche peggio. Molte sono rimaste in stato di choc perenne. Una ragazza riesce a parlare a stento di come le hanno ammazzato il padre. Sul resto tace: «Quello che hanno fatto a me dopo, non posso neanche descriverlo...» Alla saga di violenza e di sangue contro le donne afghane hanno partecipato tutti. Anche i soldati del Jamiat-i-Islami, il partito che oggi governa Kabul. A loro alcuni profughi attribuiscono la deportazione di una quindicenne destinata al letto di uno dei tanti comandanti. I miliziani di Hekmatyar, capo dell'Hezb-el-Islami, uno dei partiti più integralisti dell'Afghanistan, hanno stuprato, rapito, avviato alla prostituzione ragazzine ancora più giovani. «Mia nipote aveva solo tredici anni», ricorda una profuga. Sono venuti a prenderla, dicendo che il comandante la voleva. Eravamo terrorizzati, perchè sapevamo che qualunque cosa avessimo fatto per difenderla, rischiavamo di essere ammazzati tutti». La bambina è stata rilasciata mesi dopo, quando il capo militare che l'aveva tenuta con sè è morto in battaglia. Con la guerra è saltata ogni regola tradizionale. Nessuna libertà, nessun rispetto per i diritti umani sanciti, ormai solo in teoria, dalla Costituzione. In alcune province, sono stati i capi delle fazioni a imposessarsi del potere giudiziario. In altre, è toccato alla Shura, il consiglio degli anziani, stabilire le pene, compresa quella della lapidazione. «A Sarobi, vicino al confine con il Pakistan, abbiamo visto ammazzare una donna a colpi di pietra, sulla riva del fiume», racconta una famiglia di profughi. «La sua colpa? Era stata sposata a un comandante dell'Hezb-el-Islami, che era sparito e non aveva dato più notizie di sè per otto anni. La donna, autorizzata dal suocero aveva ripreso marito. Ma ad un certo punto il comandante è riapparso chiedendo ai suoi uomini di ucciderla». Nonostante l'anarchia, ha continuato però a legiferare la Suprema Corte dello Stato Islamico dell'Afghanistan, che nel 1994 ha emesso l'Ordinanza sul velo, una disposizione con la quale non solo si obbliga le donne a portare la «burka», il mantello integrale che le copre dalla testa ai piedi, ma viene loro proibito di lasciare le case, di circolare per strada, e persino di lavorare nelle agenzie umanitarie. I rigori dell'Islam colpito anche fuori dall'Afghanistan. Il dossier ricorda la storia di Mina Keshwar Kamal, una dottoressa che aveva fondato l'Associazione rivoluzionaria delle donne dell'Afghanistan (Rawa), un 'organizzazione che si occupa di diritti femminili, di assistenza alle madri e ai bambini e che gestisce una catena di scuole e ospedali in Pakistan. Mina, che spesso viaggiava in Europa per raccogliere fondi, è stata assassinata a febbraio 1987, da elementi vicini all' Hezb-el -Islami. Il governo del Pakistan si è sempre rifiutato di aprire un'inchiesta sulla sua morte, nonostante siano continuate le minacce e le persecuzioni agli altri membri dell'associazione. L'attività del Rawa a difesa delle donne è ancor oggi considerata anti-islamica.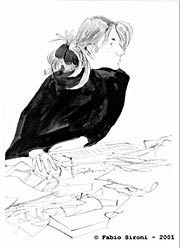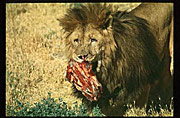 Farewell, good ol' Marjan...
The lone king of Kabul zoo succumbs to his age at 48, after surviving years and years of deprivations and symbolizing to kabulis the spirit of resiliency itself

---
Well.....that's sad news, indeed. To my eyes, Marjan symbolized hope. However, in thinking about that dear old lion's death I choose to believe that when he heard the swoosh of kites flying over Kabul, heard the roars from the football stadium, experienced the renewed sounds of music in the air and heard the click-click of chess pieces being moved around chessboards....well, the old guy knew that there was plenty of hope around and it was okay for him to let go and fly off, amid kite strings, to wherever it is the spirits of animals go.
Peace to you Marjan and peace to Afghanistan.
[Diana Smith, via the Internet]