NEW YORK, NEW YORK!
Tribute to
a defaced city


FAREWELL MARJAN...
Marjan, the one-eyed lone
lion is no longer the king of
Kabul zoo
PICTURES from the grenade attack!
Dear Visitors, these next pages are a heartful tribute to Maria Grazia Cutuli, sweetest friend, valued travelmate and skillful writer for Corriere della Sera, major italian newspaper, who was ambushed and killed by unknown assailants on November 19 2001, while traveling from Jalalabad to Kabul (Afghanistan) together with colleagues Julio Fuentes (spanish newspaper El Mundo), Harry Burton and Hazizullah Haidari (cameraman and photographer, Reuters).

Gli ultimi capannoni della zona industriale di Kigali si perdono tra le colline, in mezzo a piste sterrate e campi di banane. Jean de Dieu sta sul ciglio della strada, accanto a pezzi di lamiera accatastati. Alle sue spalle c'è quello che lui indica come l'"atelier". E' in realtà sono una baracca, piantata su un terreno melmoso cosparso di rifiuti. Ma per il ragazzo è metà del suo mondo. E' il posto dove lavora, martella, forgia, trasforma la lamiera in piccoli fornelletti da vendere al mercato. Trecento amafaranga l'uno, vale a dire un dollaro a fornello. Ogni giorno ne vende da 6 a 10. Ed è tutto quello che Jean de Dieu Harerimana a 15 anni può racimolare per sopravvivere lui e per far sopravvivere gli altri: i due fratellini e la sorella, rispettivamente di 8, 7 e 6 anni. L'altra metà del mondo di Jean de Dieu è infatti questa famiglia che si è trovata sulle spalle dopo il genocidio del 1994, diventando senza volerlo uno dei 60 mila ragazzini destinati a cambiare la tradizione sociale del Ruanda e a reggere da soli le sorti di una casa e il futuro dei più piccoli.
Jean de Dieu, come tutti i bambini del Ruanda che hanno vissuto il genocidio, non ama ricordare né tantomeno raccontare l'orrore al quale è sopravvissuto. Tutto quello che gli si strappa di bocca è un'affermazione: "Sì, i miei sono stati uccisi nel '94". E poi, a fatica il resto: "Io ero solo in casa e ho deciso di scappare per andare a trovare mia nonna a Butare, a sud di Kigali. Ho camminato per una settimana. Ma dalla nonna c'erano i miei fratellini e volevo sapere come stavano, se erano ancora vivi". Li ha ritrovati. Ma la nonna era troppo vecchia per prendersi cura di loro. "Così siamo tornati tutti e quattro a Kigali e ho portato i fratelli al Comune per chiedere un aiuto. Ma la nostra casa era distrutta e mi sono dovuto mettere a cercarne un altra". Qualcuno, "un benefattore" lo chiama lui, gli ha messo a disposizione una casupola spoglia che sta a un centinaio di metri dal posto dove lavora e qualcun'altro, i volontari dell'associazione ruandese Barakabaho, l'hanno aiutato a inserirsi nell'atélier. I fratelli e la sorella studiano. Lui no, dice. Ormai è troppo grande e poi deve pensare a tutti. "Soprattutto a procurare da mangiare e a trovare i vestiti per i tre bambini che vanno a scuola. Cucinare non è un problema... C'è una ragazza, una vicina che viene a mezzogiorno a preparare per qualche amafaranga al mese". Il futuro per Jean de Dieu è una montagna di lamiera: "Tanta lamiera, più di quella che riesco a procurarmi adesso. Per costruire più fornelli e per venderne centinaia, migliaia. Così un giorno potrò diventare un imprenditore. E aprire il mio atelier".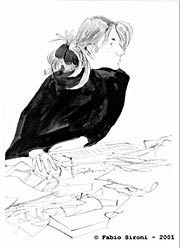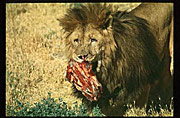 Farewell, good ol' Marjan...
The lone king of Kabul zoo succumbs to his age at 48, after surviving years and years of deprivations and symbolizing to kabulis the spirit of resiliency itself

---
Well.....that's sad news, indeed. To my eyes, Marjan symbolized hope. However, in thinking about that dear old lion's death I choose to believe that when he heard the swoosh of kites flying over Kabul, heard the roars from the football stadium, experienced the renewed sounds of music in the air and heard the click-click of chess pieces being moved around chessboards....well, the old guy knew that there was plenty of hope around and it was okay for him to let go and fly off, amid kite strings, to wherever it is the spirits of animals go.
Peace to you Marjan and peace to Afghanistan.
[Diana Smith, via the Internet]