I TALEBAN CHIUDONO L'OSPEDALE DEGLI ITALIANI (19 Maggio 2001)
>Maria Grazia Cutuli

copyright and courtesy of Corriere della Sera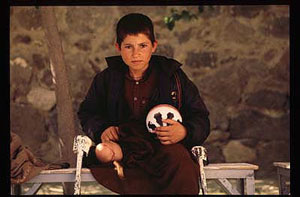 460018 Kabul, 1996
giovanissimo amputato, vittima di mina anti-uomo
I Taleban chiudono l'ospedale degli italiani

Non avrà vita facile, veniva da pensare, in una città come Kabul. Bastava sentirlo parlare un paio di mesi fa, prima che l'ospedale venisse inaugurato, la sigaretta tra le labbra, il profilo aquilino, il passo nervoso: «A trattare con i Talebani c'è da diventare matti - borbottava con voce roca -. Non avete idea di che cosa sia stato mettere su questa struttura». Gino Strada, il fondatore di Emergency, camminava irrequieto tra i padiglioni freschi di vernice, costruzioni basse dipinte di bianco, sale operatorie, aiuole in fiore. Il 25 aprile l'ospedale, con i suoi 120 posti letto, i reparti di chirurgia ricostruttiva, oculistica, pediatria, è stato aperto al pubblico. Ma l'avventura del chirurgo milanese, abituato a operare in prima linea, era destinata a una frenata. Ieri le milizie integraliste hanno deciso di chiudere «l'ospedale degli italiani» a tempo indeterminato.
Lì dentro saltano le regole imposte del regime, ha accusato la polizia religiosa: «Uomini e donne mangiano insieme, nella stessa mensa». Saltano i diktat della sharìa , che impone l'assoluta separazione dei sessi. Vacilla l'intransigenza che domina ogni aspetto della vita quotidiana dell'Emirato islamico dell'Afghanistan.
I «puri di Allah», spediti dal Ministero per la prevenzione del vizio e la salvaguardia delle virtù, sono arrivati in 25, scavalcando il muro di cinta, kalashnikov e fruste nelle mani. Non si sono limitati a entrare in sala da pranzo. Hanno anche distribuito punizioni: impiegati in ginocchio, picchiati con rami strappati dagli alberi, tre dipendenti locali arrestati per «aver opposto resistenza». Per «questioni di sicurezza» Gino Strada ha deciso di dimettere i pazienti in via di guarigione e ha affidato gli altri a strutture esterne, mentre la direzione tentava di chiarire che la mensa è divisa da una tenda: uomini da una parte, donne dall'altra.
Tempo perso. Non è gente che si lascia convincere facilmente questa che governa a Kabul. Il mondo se ne è accorto a marzo, quando i Talebani, senza sentir ragione, hanno distrutto i Buddha giganti di Bamiyan. E, negli anni passati, quando i dissidi «ideologici» con le agenzie umanitarie si trasformavano in evacuazioni dal Paese e blocco dei soccorsi.
Non avrà vita facile Gino Strada, veniva da pensare. L'ospedale, costato 350 mila dollari (700 milioni di lire), è un piccolo paradiso se paragonato alle sale fatiscenti del vecchio Karte Se di Kabul, ai reparti sforacchiati dalle granate, ai corridoi tetri delle altre strutture sanitarie dell'Afghanistan. C'è chi dice, come la Croce Rossa internazionale, che si tratta di un'opera superflua. L'emergenza umanitaria, scatenata dalla guerra e dall'ultima carestia, tocca altre regioni del Paese: 4 milioni di persone a rischio, secondo il segretario di Stato americano Colin Powell, che ieri ha annunciato aiuti per 43 milioni di dollari (86 miliardi di lire). Ma per i Talebani non è questo il punto. Gino Strada aveva un peccato da farsi perdonare: un primo ospedale inaugurato nel 1999 ad Anabah, nel Panshir, la valle controllata dal capo dell'opposizione, il comandante Massud. «Abbiamo voluto costruire una seconda struttura a Kabul - sostiene il chirurgo - proprio per dimostrare la nostra imparzialità». Dietro al progetto c'è anche il governo italiano e, indirettamente, il «processo di Roma»: un piano di pace che propone di resuscitare la loya jirga , l'antica assemblea suprema dell'Afghanistan, per lanciare un governo di coalizione tra i Talebani, l'opposizione e i vecchi «saggi» del Paese.
L'ex re Zahir Sha, che dal 1975 vive in esilio a Roma, farebbe da garante. A settembre scorso la visita in Afghanistan del sottosegretario agli Esteri, Ugo Intini, è servita tanto a benedire l'ospedale di Strada quanto a sottolineare l'impegno italiano per ricucire il conflitto. Ma i Talebani temono il sovrano, tutt'oggi rimpianto dalla popolazione afghana, molto più dell'opposizione. E se la struttura costruita da Gino Strada nel Panshir era stata soprannominata l'«ospedale di Massud», questo di Kabul è già diventato l'«ospedale del re».
Il regime ha fatto di tutto per mettere le mani sull'ospedale: ha rivendicato la presidenza, le cariche amministrative, la gestione del personale, fino a bloccare i lavori per mesi. Gino Strada non si è lasciato intimorire: «La struttura appartiene a Emergency e, finché sarò qui, rimane sotto il mio controllo». E, per finire, ha violato un mezzo tabù: «Diamo lavoro a 240 persone. E, potete giurarci, la priorità va alle donne». Ma è qui che gli integralisti l'hanno colto in fallo. I Talebani permettono a infermiere e dottoresse di operare nelle corsie femminili. Non di mischiarsi agli uomini al tavolo da pranzo.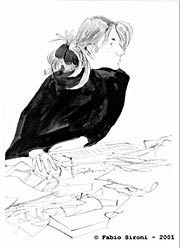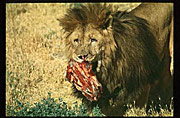 Farewell, good ol' Marjan...
The lone king of Kabul zoo succumbs to his age at 48, after surviving years and years of deprivations and symbolizing to kabulis the spirit of resiliency itself

---
Well.....that's sad news, indeed. To my eyes, Marjan symbolized hope. However, in thinking about that dear old lion's death I choose to believe that when he heard the swoosh of kites flying over Kabul, heard the roars from the football stadium, experienced the renewed sounds of music in the air and heard the click-click of chess pieces being moved around chessboards....well, the old guy knew that there was plenty of hope around and it was okay for him to let go and fly off, amid kite strings, to wherever it is the spirits of animals go.
Peace to you Marjan and peace to Afghanistan.
[Diana Smith, via the Internet]