NEW YORK, NEW YORK!
Tribute to
a defaced city


FAREWELL MARJAN...
Marjan, the one-eyed lone
lion is no longer the king of
Kabul zoo
PICTURES from the grenade attack!
Dear Visitors, these next pages are a heartful tribute to Maria Grazia Cutuli, sweetest friend, valued travelmate and skillful writer for Corriere della Sera, major italian newspaper, who was ambushed and killed by unknown assailants on November 19 2001, while traveling from Jalalabad to Kabul (Afghanistan) together with colleagues Julio Fuentes (spanish newspaper El Mundo), Harry Burton and Hazizullah Haidari (cameraman and photographer, Reuters).

"
A MORTE I VOLONTARI OCCIDENTALI" (7 Agosto 2001)
>Maria Grazia Cutuli

copyright and courtesy of Corriere della Sera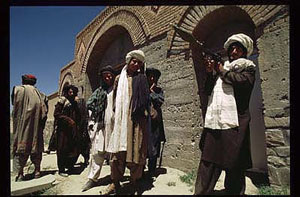 460207 Combattenti Taleban a Maidan Shar

Il regime afghano accusa un gruppo umanitario di far proselitismo cristiano
«A morte i volontari occidentali»
Kabul, legge islamica per giudicare gli otto cooperanti arrestati

I maaruf hanno trovato le prove che cercavano: una Bibbia, due computer, un testo cristiano tradotto in dari, un paio di cassette. Altro che operatori umanitari. Secondo la polizia religiosa dei Talebani, dietro Shelter Now International, un'organizzazione non governativa attiva a Kabul, si nasconde una rete di predicatori impegnati a far proselitismo cristiano nella roccaforte dei «puri», tra i devoti più devoti di Allah. Non è un crimine da poco per l'Emirato islamico dell'Afghanistan. I 24 cooperanti arrestati domenica - quattro tedeschi, due australiani, due americani e 16 operatori locali - saranno giudicati secondo la sharia , la legge coranica. E c'è da temere che venga applicata nella forma più estrema. E' Mohammed Salim Haqqani, il vice ministro per la repressione del vizio e la promozione della virtù a ricordarlo: stando a un editto del mullah Omar, leader degli integralisti, tanto le conversioni quanto gli indottrinamenti contrari all'Islam sono punibili con la pena capitale.
I prigionieri si trovano adesso in prigioni separate, stranieri da una parte, locali da un'altra. Due donne, un'australiana e un'americana avrebbero confessato. «Hanno ammesso le loro colpe - aggiunge il viceministro - chiedendoci perdono». Le dichiarazione di Mohammed Salim Haqqani suonano beffarde: «Stanno tutti benissimo. Forniamo loro tre pasti al giorno e vivono in un posto piacevole». Ma c'è un'inchiesta in corso, fa sapere il regime, e nessuno per il momento è autorizzato a visitarli.
Ci sono anche 59 bambini, «vittime» secondo il governo della propaganda cristiana. A loro è stato riservato un trattamento di «favore». Verranno tenuti in un centro correzionale, fin quando «gli insegnamenti del cristianesimo saranno rimossi dal loro cuore e dalle loro teste».
Shelter Now International ( Sni ) ha precedenti sospetti per i puri di Allah. L'organizzazione, fondata 16 anni fa da un gruppo americano, durante l'occupazione sovietica in Afghanistan cominciò a inviare volontari nei campi profughi sorti lungo la frontiera con il Pakistan. Nel 1990 i mujiheddin accusarono il vertice di far propaganda cristiana e tentarono di assassinarne il direttore esecutivo. L'Sni venne rilevata da cooperanti tedeschi. Il nome fu mantenuto, ma di fatto si crearono due organizzazioni: una sotto controllo statunitense, l'altra collegata alla Germania. «Entrambi i gruppi hanno programmi di assistenza agli afgani - puntualizza Norman Leatherwood, il direttore dell'organizzazione americana - ma non sono affiliati».
Precisazione inutile? I Talebani non vanno per il sottile quando si tratta di occidentali. Con gli Stati Uniti i motivi di tensione non mancano: Washington fu tra i primi sponsor degli integralisti nel 1994, per diventare il loro principale antagonista dopo l'ospitalità offerta dai guerrieri islamici allo sceicco saudita Osama Bin Laden. Ma l'offensiva del regime ha un raggio più largo. Sconfina oltre i limiti della politica per proporsi come «scontro di civiltà»: la purezza dell'Islam contro la degenerazione occidentale. Almeno nella forma.
Le sanzioni, votate dall'Onu alla fine dello scorso anno, hanno sancito la spaccatura. La prima mossa dei Talebani - la distruzione dei due Buddha giganti di Bamyan - è stata letta come una ritorsione ai rigori occidentali. I successivi attacchi hanno invece preso di mira gli interventi umanitari. A maggio i Talebani hanno chiuso l'ospedale di Emergency, l'organizzazione italiana fondata da Gino Strada, accusando lo staff di promiscuità tra uomini e donne. Subito dopo un avvertimento agli stranieri: tutti, occidentali compresi, sono soggetti alla sharia. E' l'unica legge che vale. L'unica che garantisce il mantenimento di uno stato di polizia. La purezza dell'Islam c'entra solo in parte. E' il controllo sociale l'obiettivo dei Talebani.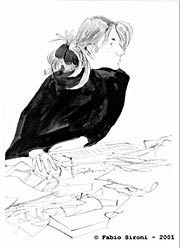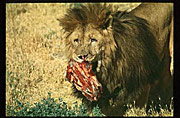 Farewell, good ol' Marjan...
The lone king of Kabul zoo succumbs to his age at 48, after surviving years and years of deprivations and symbolizing to kabulis the spirit of resiliency itself

---
Well.....that's sad news, indeed. To my eyes, Marjan symbolized hope. However, in thinking about that dear old lion's death I choose to believe that when he heard the swoosh of kites flying over Kabul, heard the roars from the football stadium, experienced the renewed sounds of music in the air and heard the click-click of chess pieces being moved around chessboards....well, the old guy knew that there was plenty of hope around and it was okay for him to let go and fly off, amid kite strings, to wherever it is the spirits of animals go.
Peace to you Marjan and peace to Afghanistan.
[Diana Smith, via the Internet]