NEW YORK, NEW YORK!
Tribute to
a defaced city


FAREWELL MARJAN...
Marjan, the one-eyed lone
lion is no longer the king of
Kabul zoo
PICTURES from the grenade attack!
Dear Visitors, these next pages are a heartful tribute to Maria Grazia Cutuli, sweetest friend, valued travelmate and skillful writer for Corriere della Sera, major italian newspaper, who was ambushed and killed by unknown assailants on November 19 2001, while traveling from Jalalabad to Kabul (Afghanistan) together with colleagues Julio Fuentes (spanish newspaper El Mundo), Harry Burton and Hazizullah Haidari (cameraman and photographer, Reuters).

LA MIA FUGA DAI TALEBANI (19 Marzo 2001)
>Maria Grazia Cutuli

copyright and courtesy of Corriere della Sera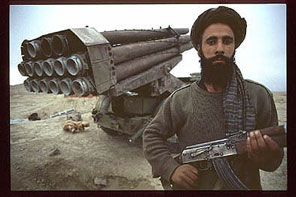 460382 Winter 1996, Taleban fighter at a rocket launcher post


«La mia fuga dai Talebani»
Il racconto dell' inviata della Bbc espulsa da Kabul perché «comunista»

DAL NOSTRO INVIATO ISLAMABAD (Pakistan) - Ventiquattr' ore per lasciare il Paese. Non c' è stato tempo che per impacchettare la propria roba e farsi accompagnare alla frontiera. Kate Clark, la corrispondente della Bbc a Kabul, ha lasciato la sua prima sede all' estero dopo 18 mesi di lavoro in Afghanistan. Persona non grata, secondo i Talebani. Agente della propaganda occidentale, «comunista». Nell' arco della stessa giornata, la giornalista ha visto i sorrisi trasformarsi in ostracismo. «Alle 9 - ha raccontato dal Pakistan - uscivo dal centro stampa di Kabul con il mio visto rinnovato per altri sei mesi. Due ore dopo mi sono sentita dire che era meglio che me ne andassi per un po' . Sapevo che questo sarebbe potuto succedere, ma è stato uno choc». La Bbc è la radio più ascoltata in Afghanistan. L' unica voce straniera, oltre alla radio dei Talebani, a divulgare notizie sul Paese, in inglese ma anche in pashtun. Nessun corrispondente era mai stato cacciato. Kate aveva vissuto da sola nella capitale, giovane donna occidentale a raccontare la criminalità, la presenza di arabi e di pakistani nei campi di addestramento delle milizie integraliste, il massacro dei civili di etnia hazara che si è consumato a gennaio. Le era stato tollerato tutto, tranne l' ultima intervista trasmessa in pashtun, quella ad un intellettuale afghano emigrato negli Usa, Ashar Ghani, che condannava la distruzione dei due Buddha di Bamiyan. E' difficile trovare un solo afghano che fosse d' accordo con l' editto del capo dei Talebani, il mullah Omar, contro gli «idoli pagani», racconta la giornalista. E' difficile trovare una sola voce nel mondo che possa difendere, in nome dell' Islam o di qualsiasi altro principio, l' attacco iconoclasta ai simboli di una civiltà millenaria. Ma l' interlocutore di Kate ha usato una parola sbagliata nei confronti dei puri di Allah: jaahil, che significa ignorante. I Talebani hanno esibito l' orgoglio. Annunciando l' allontanamento dei «giornalisti comunisti che intendono imporre le proprie vedute». Due mesi fa era toccato a un interprete. Quando l' editto contro le statue è stato emesso, Kate Clark era in vacanza all' estero. Era riuscita a tornare lunedì, in tempo per trasmettere l' intervista incriminata. Tre giorni dopo è stata messa alla porta. «Sono una rifugiata del Pakistan», ha detto all' ufficiale di frontiera. «No, lei è una giornalista conosciuta. E' un onore averla come ospite», le ha risposto il doganiere. Kate ha cercato di non piangere. Ora è in Pakistan ma conta di tornare a Kabul.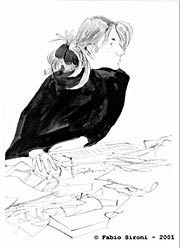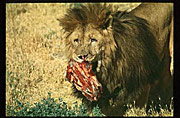 Farewell, good ol' Marjan...
The lone king of Kabul zoo succumbs to his age at 48, after surviving years and years of deprivations and symbolizing to kabulis the spirit of resiliency itself

---
Well.....that's sad news, indeed. To my eyes, Marjan symbolized hope. However, in thinking about that dear old lion's death I choose to believe that when he heard the swoosh of kites flying over Kabul, heard the roars from the football stadium, experienced the renewed sounds of music in the air and heard the click-click of chess pieces being moved around chessboards....well, the old guy knew that there was plenty of hope around and it was okay for him to let go and fly off, amid kite strings, to wherever it is the spirits of animals go.
Peace to you Marjan and peace to Afghanistan.
[Diana Smith, via the Internet]